Douglas Kennedy Bio:
His upcoming novel, THE MOMENT, publishes with Atria on November 15th and is already a #1 Bestseller in France: an enchanting love story that brings us across the world to Berlin during the Cold War, and offers richly drawn, complex characters, with a surprise twist that thematically recalls Sophie's Choice and stylistically recalls John Irving. A review of THE MOMENT in hardcover by The Pittsburgh Gazette states: "Kennedy's narrative virtuosity drives a story that blends romance and thrills in the right proportion [with a] sense of place that is palpable." Entertainment Weekly calls him a male Jodi Picolt.
Kennedy is the author of ten novels, including international bestsellers Leaving the World and The Woman in the Fifth. The latter is scheduled for theatrical release this November, starring Ethan Hawke and Kristen Scott Thomas. Mr. Mr. Kennedy's work has been translated into 22 languages, and in 2007 he was awarded the French decoration of Chevalier de l'Ordre des Arts et des Lettres.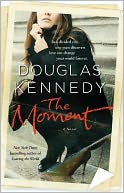 Book Description:
Berlin, during the period of perestroika in the 1980s. The male protagonist is a travel writer who falls desperately in love with a beautiful East Berlin woman, Petra. Their passionate relationship is destroyed when he finds out that Petra is a Stasi agent and, worse, that she has been using their relationship to gain information from him. He is devastated at such betrayal, believing that every element of their relationship had been false.
It is only years later, once Petra is dead, that the narrator discovers the truth. Petra was being forced to give information to the Stasi, who were holding her son captive under threats of death. Too late he learns that the relationship was a sincere one -- the feelings were real -- and it was only Petra's fear for her son's life that led to her betrayal of her lover. But the crucial moment, when he had the choice to commit fully to her and find the truth or to walk away, has gone for ever.
Like Kennedy's previous highly acclaimed novels, The Moment brilliantly illustrates the irrationality of love and the crucial moments which define whole lives.
Douglas, welcome! Are there any topics of current news interest that your international profile would position you as best to speak to?
I could certainly speak authoritatively on British and French politics, as I continue to live in both countries. But I also could be useful talking about how the US is perceived abroad. I have commentated for the BBC and French radio, and in British and French newspapers, on all things American. And having lived thirty years away - and now having come home - I have a unique perspective on being an American abroad. I'm a living example of the American artist a l'etrangère, a contemporary example of an American novelist finding acclaim in France, and observing how the French continue to bolster the careers of so many American writers (Paul Auster and Philip Roth sell three times as many books in France as they do back home). As I told a French journalist recently: "Though I lived elsewhere for three decades I never stopped being an American, and I returned home because I wanted to be part of the argument again."
In THE MOMENT, the protagonist Thomas Nesbitt is an author, who is divorced, and spends his time between Berlin, Maine, and New York. Since you share these distinctive qualities, how much of the book would you say is autobiographical?
Like Thomas, I am a middle-aged American writer who lives half the time in Maine – and always seems to be on the proverbial move. And yes the childhood he describes – two parents in continual war with each other, and constantly dissatisfied with the cards that life has dealt them (or that they have, in fact, dealt themselves) – is a reflection of my own, right down to the cramped apartment on 19th Street and 2nd Avenue in Manhattan where I was initially raised with my two younger brothers. And yes, like the adolescent Thomas, I found escape in the cinemas, theatres, concert halls and bookshops of New York – just as, like him, I began to travel relentlessly once that became financially feasible. I remain a culture vulture – I am always heading out to a movie or the theatre or a classical music concert – just as I always remain on the move. In fact I'm writing this on a flight from Paris to Boston.
The cruelties many East Germans endured before the Fall of the Wall in 1989 is a horror not far removed from those who lived through it, despite the auspices of our "modern and democratic first world." Is there any current event that can be considered a parallel modern evil in your opinion?
Clearly there are far too many countries today – North Korea, China, Cuba, Syria, Burma come quickly to mind – where speaking out against the regime will land you in profound peril. And the fact is that, for all the talk about the stability of mature democracies, the lure of demagoguery and a Manichean world-view (best defined as: 'we're right, they're wrong') always lurks everywhere. And though I am profoundly centrist in my politics, my travels in Eastern Europe during the final decade of The Cold War instilled a horror in me of Communism, because it was so totalitarian, so against the need for individualism, so ruthlessly doctrinaire and inflexible, and so profoundly bleak. As detailed in THE MOMENT the visual palette of a Communist city like East Berlin was grainy black-and-white, with no aesthetic relief whatsoever. It was, verily, the emergency edition of life.
How do you see the setting of Berlin before the fall of the Wall and the subsequent disintegration of the socialist East from the capitalist West as relevant to our time?
Berlin back then was the ultimate schizophrenic metropolis. West Berlin was this little capitalist island floating amidst the Warsaw Pact states. As such it was also a haven for people who liked the extremity of its situation. West Germans flocked to Berlin at the time because, if you lived there, you could avoid military service – and because the atmosphere in West Berlin was uber sex and drugs and rock-and-roll. But Berlin was also one of the most culturally charged cities as well – from the extraordinary Berlin Philharmonic during the von Karajan era to the amazingly cutting-edge work of theatres like the Schaubuhne. And then there was the menacing presence of The Wall – and the fact that, to live there, was to exist in an ongoing Cold War novel of your own making. In terms of the relevance of the fall of Communism and its relevance to life as it is now lived twenty-two years later… I remember sitting at a very elegant table in a very elegant dining room in London in early 1989. It was a dinner party largely peopled by what the British press liked to call 'the chattering classes' (i.e., media and arty types – of which I was a fully paid-up member). And I remember pronouncing at the time: "Whatever about the collapse of all the other Warsaw Pact states we will never see a united Germany in our lifetime – because the two superpowers and Western Europe will never allow it". How wrong I was – and perhaps that's the great lesson to take from the fall of the Warsaw Pact and the reintegration of the two Europes: if history teaches us anything it's that there is no such thing as a rigidly established orthodoxy. Like the thousand year Reich which Hitler once wildly proclaimed, the most tyrannical of systems eventually come asunder… only, alas, to be subsequently replaced by some other monstrous enterprise. Have you ever considered the fact that – whether it be Stalinism or Nazism or Maoism or the horrors of the Khymer Rouge or Serbian barbarism less than two decades ago – all nightmare regimes all proclaim to have the answers to life's larger dilemmas…. and usually advocated genocide as a means of progressing their vile agendas.
You often speak of "chaos theory," defining moments in our lives that cannot be anticipated. Can you elaborate? Is this what THE MOMENT principally refers to?
When I first stumbled upon Heisenberg's chaos theory – the idea that a particle dispatched into the universe will have no idea where it will end up (I cite this theory in my novel, 'Leaving the World') - I immediately felt as if I had stumbled upon a kindred spirit. The idea of chance – 'la musique du hazard' – permeates all my novels, because it so permeates life. You can attempt to construct a destiny, brick-by-brick – but then some ill-wind will inevitably blow in and upend all that you have so carefully wrought. There's a wonderful American depression-era expression which my maternal grandfather (a jeweler in the diamond district of Manhattan) was fond of quoting: "Life changes on a dime." It's a truth worth remembering: all that we hold dear can be taken from us in an instant. It's what I've often said about success: it's a fragile veneer. And like life itself it must never be taken for granted.
It's a truism one hears that life until death has no ending, only beginnings. But in THE MOMENT, we have a clear sense of Endlich or "the end of things." Is your personal perspective or grasp of the world typically glass half-full or half-empty? Do you believe more in the reality of the finite, or in infinite possibilities? What does Thomas believe?
I think, until somewhat recently, I was very much a 'glass half empty person' – and very suspicious of happiness. Part of this was to do with my childhood, part to do with a marriage that was largely unhappy (though it had its good intervals) and which (I only realize now that it's behind me) was the emotional equivalent of Stockholm Syndrome – unable to flee the situation that holds you captive. As such, finally getting out of that self-entrapped sadness was a huge liberation – and a friend in Paris recently remarked that, since my divorce, my face had lost five years… to which I could only reply: 'Merci'. Nowadays I find myself far more positive, far more hopeful – and far more open to the idea of true love. And even though 'THE MOMENT' is, at heart, a tragic love story –and one that truly makes most people cry – there is hope at the heart of its narrative. After all, if we stop hoping we stop believing in life's possibilities. And – this is the new-found optimist in me talking – life is about possibilities.
THE MOMENT's final sections close with the greatest sense of sorrow imaginable; worse because the sorrow doubles over when we are taken by surprise with an even crueler second blow. Have you felt anything comparable to this kind of sorrow in your own life or that of someone you know?
When my son, Max, was diagnosed as autistic, that was the metaphysical equivalent of a kick to the stomach – and very difficult to fathom. He was five years old at the time – and though we already knew he had profound developmental problem, an epileptic seizure rendered him virtually catatonic for over three months and there was extreme doubt about what his future would hold. Fourteen years on Max is on the verge of going to college – and is currently in the equivalent of a junior college in England, doing Media Studies. Yes his amazing progression and achievement has been the result of a fantastic amount of hard work. But more than anything his autism taught me not just that the unexpected is always there, lurking behind all human endeavors, but also how you interpret (and react to) a crisis determines so much. In life everything truly is interpretation.
THE MOMENT is equally about "moments" of possibility, the good kind of accountability one chooses, specifically in terms of having children. Both Thomas and Petra make this commitment as young lovers; and the older Thomas makes the commitment to his second wife Jan later on. As a father, what have been some of the most difficult and rewarding experiences of parenthood?
I think I've just answered half of that question above! Fatherhood was something I came to relatively late in life: I was thirty-seven when Max was born and forty-one when Amelia arrived. My children are, quite simply, the best thing that ever happened to me – and I still think that as they are both now grappling with the complexities of adolescence. I truly believe that a life without responsibilities to other is a half-life. The other side of that equation, however, is a life where you sidestep the biggest responsibility of them all – which is to yourself. If you live a life that denies your own hopes and ambitions then you are also living a terrible half-life. People always talk about selflessness as a great virtue. Frequently selflessness is redolent of sanctimony. You need to find equilibrium between your own aspirations and the accountability you have to others.
The author and publisher are offering US residents (3) chances to win copies of The Moment. The publisher will mail out the books to the winners, so please make sure you provide your email. Only open to US residents.
Questions to comment on:
What is the best forbidden love story of all time?
Your favorite historical novel?
The moment that changed everything for you?
Comment here, and leave your email for a chance to win. Contest will end December 15th. For extra chances to win, follow Douglas on
Facebook
and please follow this blog.